By now everyone knows gmail, it's practically become a verb, just like google. Yahoo then, not wanting to trail too far behind, has stepped up its efforts to polish off its webmail offering to match gmail. gmail offers 2.7gb of storage space, yahoomail gives you 1gb, either way it's much more than anyone will ever need. Of course, yahoomail has been around for a very long time, it long outlives gmail. And it has received periodic updates and improvements over time, but the new yahoomail beta is supposed to rival gmail - big headlines, big launch, big news.
My software engineering books would always mention "the zero solution". Before you start building a new system, you have to compare its cost and projected benefit against the current system. What will be the benefit of the new system compared to doing nothing at all? This is how you would determine whether the project has any kind of potential at all. In that spirit, let's spare a thought for the soon-to-be-extinct old yahoomail, the existing solution.
But before we do anything, let's mark out the perimeter. In the upcoming screenshots, I've allocated 828x588 pixels to Firefox, which is exactly the amount of space it gets on my desktop. Each of the services will be presented in that space. Free webmail services tend to support themselves with advertising, so that is a necessary evil for us users. To make this more obvious, I've marked out, in pink, the areas on the page which contain either advertising or endorsement of the site's own services.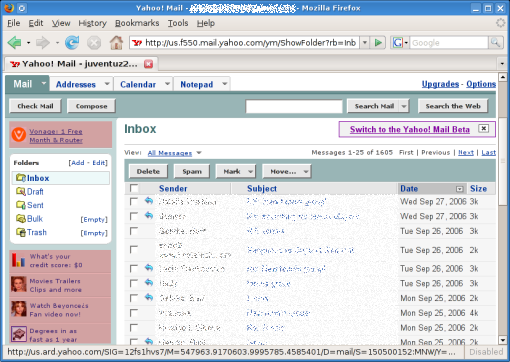 Starting with the existing yahoomail, the service, I'd say, is quite functional. When I log in, I come to an "overview page", which is basically Yahoo's pretext for showing me ads. It also has some clearly non-localized stories from Associated Press which I've never even looked at. I've learned to ignore this page and click on my inbox, which opens the page shown in the screenshot. Here I have a list of messages, with folders on the left. Clicking on a message takes me to it (no AJAX, so I have to wait for a new page to load), but I can middle-click to open a bunch of messages in separate tabs, which I often do. This interface can be quite slow at times (whenever my connection is poor, or yahoomail is overloaded), so loading each new messages can take a while in those circumstances. There is an address book, and I can explicitly add entries to it by typing in new contacts. The message composer is very basic, but it has auto-completion for typing in email addresses in the recipient field (pulled from the address book, naturally). yahoomail has a spam filter, suspected spam lands in my Bulk folder, but I have mixed results with the filter. The ads are all concentrated on the left sidebar and aren't intrusive at all, the trained eye can easily ignore them. The total screen area occupied by ads is 6.6%.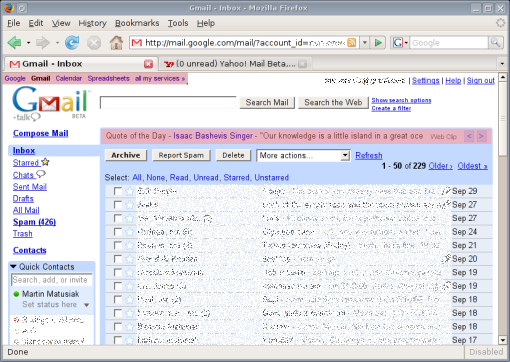 Then came gmail, and made big, big waves. No other webmail service has made so much noise before. Well, gmail was one of the first mainstream websites to introduce AJAX to the world. When I log into gmail, I immediately see my inbox. This tends to take a little while, apparently there are quite a few things to load behind the scenes. But once it pops up, I see what the screenshot shows. Again, I have a list of messages front and center, with a list of folders on the side. It also displays my contacts below that. Interestingly, the contact list is not a static entity, it is built dynamically out of contacts with which I exchange emails. So I don't have to type in entries in my address book manually, it is done for me. (As a small sidebar, I can also use the contact list to chat with my contacts over googletalk, without leaving my inbox.)
Clicking on a message here opens the message on the same page, which is quicker than loading a new page. Unfortunately, middle-clicking on the message title doesn't work here. gmail is packed with AJAX functions, however. For instance, marking messages as spam removes the message from sight dynamically. The message composer is a bit more advanced, there is a rich editor available, and a built-in spell checker. Once again, auto-completion for typing in message recipients (pulled from my dynamic contact list). gmail's spam filter is very good, I only get the odd message in my inbox that doesn't belong there. The advertising is also very discrete, just text, no images, and blends right in with the rest of the page. The advertising area is 4.4% of the page.
The search function, powered by google, enables me to find old messages with good accuracy, which is something yahoomail doesn't have at all.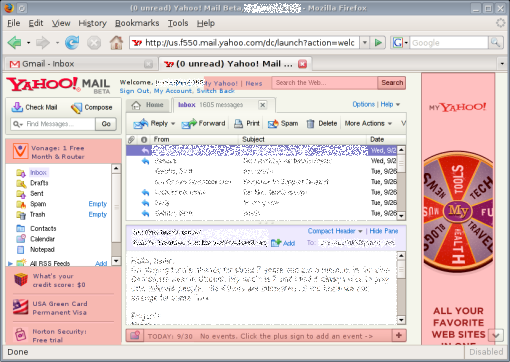 gmail isn't news, it was news. Let us then turn to what is news presently - the new yahoomail beta. The new service has received some glowing reviews, I won't bother digging for them - those who have written it know who they are. yahoomail beta is Yahoo!'s response to gmail, then. Let's see how they compare. The first thing very striking about the new service is the amount of advertising they have put on it. It's impossible not to notice this, it immediately strikes me as one of the more ad infested websites I use. The pink bits here make up for a total of 20.8% of the whole page. Do you see the little arrow in the bottom right corner? The tooltip for that reads "Click to scroll down to view the rest of this advertisement". How adorable is that? Has anyone ever scrolled to see more of an ad? Okay, let's put that aside for now. Logging into yahoomail beta again opens an "overview page", which is again just a place to display ads and news stories. I'm not the slightest bit interested in news, I'm looking for my email. So I click on the Inbox tab.
This is Yahoo hoping that frames will come back in style. I have a list of my messages, with a display area below it, just like in most mail clients. So when I click on a message title, I see the message in the display area. Below the message display area there's an endorsement for Yahoo's calendar, which I have absolutely no use for (and it's impossible to remove the little ad to better use the available screen space). On the right, there's a huge ad. This interface is horrid design. Web design 101 says every website should be tested across a wide range of screen resolutions, to make sure it functions well in them all. Either Yahoo is oblivious to this, or they just don't care. At the same time, the fonts have become smaller, which suggests that the pages aren't meant to be viewed at high screen resolutions anyway (ie. they really want you to have that kind of ads-to-content ratio). With the amount of space occupied by ads, the list of messages and the message display area beneath is squashed in between frames, and is a real pain to use. When I open my inbox, I only see about 7 messages in the list, and there's no way for me to scroll the page, because the list is in a damn frame. When I click on a message title, I get about 5 lines of message text displayed in the display area, which is about as convenient as reading the same message off the screen of a cell phone. And this is it, there is no "open message in a new tab/window" or anything like that, this is the only way to view messages. The most important element of a webmail system is browsing the inbox and reading messages, and Yahoo have completely botched it. I could just as well end it here and declare yahoomail beta a broken service. But in the spirit of completeness, let's finish this.
On the left, I have my list of folders, and a new search box to search my email, which I guess is a brand new gmail-ish feature that yahoomail beta is hoping will make it possible for us users to maintain some idea of our email history. The classic yahoomail really lacks this, it only gives me an option to browse old messages, 25 message titles per page, until I find the one I'm looking for.
The address book does not seem to have changed in the new yahoomail, I still have to add contacts by hand. The spam filter I imagine is the same as with classic yahoomail, but I haven't used the service long enough to know for sure. The message composer has been given a makeover, it now has a rich text editor and a spell checker. There are some AJAX additions to the interface, like "dynamic" spam classification of messages (like gmail has). But these additions are very underwhelming considering how slow and bulky the service generally feels. There are way too many ads, gmail's pages are much simpler and more to the point.
gmail is head and shoulders above yahoomail beta, it is intelligently designed to be efficient and "smart". yahoomail beta is a patchwork of half baked ideas and compromises, which results in a service that is less functional than the original one. yahoomail beta is not about to win significant market share unless it gets a complete redesign (which is generally not something you do with beta software). I am migrating my email increasingly to gmail, and the launch of yahoomail beta has begun to speed that up.
In a few parting words, here are some of the quotes yahoomail beta proudly prints on its opening page.
"The new interface is stunning in its simplicity and ease of use."


— PC Magazine

"Yahoo! Mail came out on top again."


— Associated Press

"Graceful, swift, and respectful of your privacy, Yahoo! Mail Beta makes a gracious e-mail host..."


— CNET
Enough to impress executives, is it? But will it fool the users? Not a chance.
EDIT: Apparently the classical yahoomail does have a facility to search in messages, this seems to be a recent addition as I've never seen it before.