Sørlandet (literally "south of the country") is just the nicest place to be in the summer. Tourist flock from all of Europe to experience the Norwegian summer in this region. It's been years since I've spent summers there myself, but this weekend I had a chance to go back to Mandal, a lovely little town with the best beach in the country.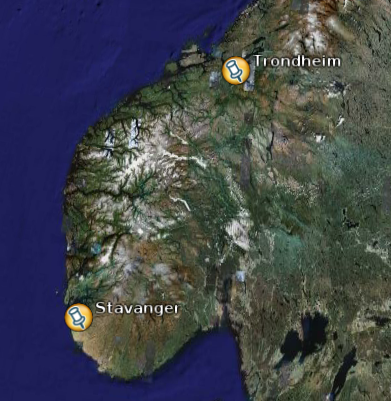 First, catch a flight down south to Stavanger (cause it's waaaay too far to drive). Then, get on the E39 direction Kristiansand. It's about 200km to Mandal, so set aside 3-4h for this, it's quite a scenic drive through the mountains and valleys, but you won't go fast cause the roads are narrow and there's traffic.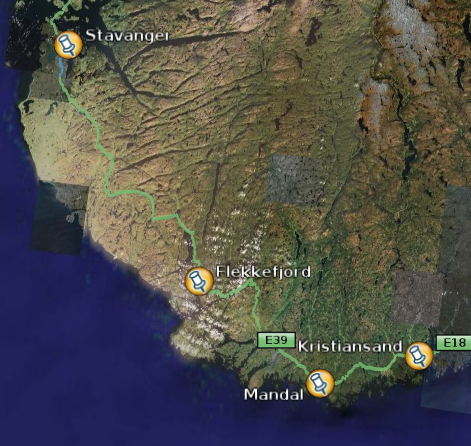 In Mandal, you will discover a small, charming touristy town with classic white wooden houses and a vacation kind of atmosphere. (Make sure you don't back into the car with the German plates as you're getting out of your parking spot.) Once in Mandal, you may want to go for a coffee (or indeed an ice cream) at the town's best located ice cream bar, right on the main street. Then, why not take a stroll through town and pick up some nice paella for dinner at the fish market.
Sjøsanden camping is right outside town. Bring your camping gear or hire a bungalow if you don't have any. Head for the greatest beach in Norway, which is literally at the foot of the camping (I tried pulling up the Google Earth imagery for it, but as luck would have it, the imagery stinks for that particular place).
Once you're done with the beach and dusk sets in, have some dinner and head to Kristiansand, a mere 40km away. Kristiansand is *the* city in the south of the country. Also a nice place to be in the summer, the old fort dominates the bay, but there are marinas and there's a beach too.
The next morning, go for a swim in the sea before breakfast. If the water feels chilly, then it probably means it's the hot time of year. On the drive back, stop off at the little town of Flekkefjord. It isn't so much of a tourist place, but it's more the kind of small town Norway that much of this country is. As you drive into the center, crossing the bridge over the fjord, on the left you'll see a place called Kaffebørsen. They have a wide selection of coffee and in particular, their mocca is excellent.