It's been a while now since I found out about Magnatune, the record company that doesn't hate the world (and doesn't peddle muscular rappers and skimpy clad teenage girls). In this time I've listened to a bunch of albums with amarok, and here are the best ones I found. I've listened to many more, but these are the ones I liked enough to secure permanently.
Amarok has the nice property that you can browse the collection right in the program. If you buy using amarok, it remembers the albums you got, so you can redownload and stuff like that, very handy. If you only stream, you get the same music, but you also get a short commercial at the end of every track.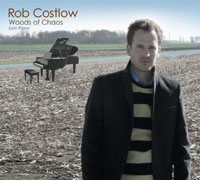 Rob Costlow - Woods of chaos
It's always difficult to determine genres. Magnatune calls this New Age music. Another description given is melodic piano pieces, which is dead on. It's a suite of greatly soothing pieces I would say. One thing it perhaps lacks is enough complexity to last a long time, so after a while the pieces become too familiar and appear a bit dull.
Costlow has one other album on Magnatune, Sophomore Jinx, which I didn't find as good.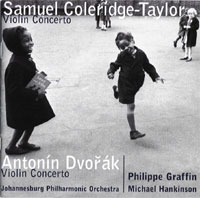 Johannesburg Philharmonic - Coleridge-Taylor/Dvorak Violin Concertos
I found this album while browsing the classical section (which seems to be the best one on Magnatune).
Coleridge-Taylor is an interesting find. His concerto opens with an irresistably virtuosic voilin solo delivered by Philippe Graffin, and from that point on I knew I was listening to something I would like.
And then there is the Dvorak, one of the underrated Romantic composers I'd say, sure to catch my eye every time. The concerto in a minor is not his most well known work, and I think not as good as his cello concerto in a major, but still offers quite enough to satisfy.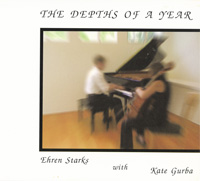 Ehren Starks - The Depths of a Year/Lines Build Walls
Ehren Starks is more of a jazz piano act. These two albums are declared New Age and Classical respectively, although I'm not sure if I would stick them in separate categories. The difference is that The Depths of a Year also has a cello part, played by Kate Gurba. This offers a powerful dimension to an otherwise piano dominated offering.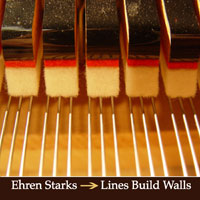 Each album has a dozen discrete pieces, and they happen to be quite varied. Some are more calm and melodic while others are more busy and engaging. The mixed bag is tough to pull off, but when done right it produces an album that offers much more than a series of performances in much the same style.