I used to be a huge Michael Jackson fan as a kid, my room was plastered with his posters, I had all the albums, I listened to his music _all the time_. In 1993, he was on tour and I badly wanted to go to the concert in Oslo. One Saturday morning, at about 8am, my friend and I had just left Oslo S and we were heading for a record store. The line from the entrance almost encircled the entire block and finally we arrived at the end of the line. We were an hour early, quite a few people had gotten there ahead of us. Literally minutes later we witnessed the line grow incredibly fast, we couldn't even see the end anymore as it was wrapped around the last corner of the block. At 9am, the doors opened and the tickets went on sale. We got ours and it felt pretty amazing knowing we would be going to a live performance.
The problem with these concerts, of course, is that there are way too many people, and when you're 12 years old and pretty damn short, it's pretty much a given you're not going to get much out of pushing your way to the front of the pack. We actually grabbed our seats at the very back, the stadium where the concert was had this grassy hill on one side and we sat there quite comfortably. (Seeing wasn't a problem either with huge screens on either side of the stage showing what was happening.)
I haven't been to anything like that concert. Michael Jackson had a reputation for amazing live shows, people who didn't even like his music would go just to see it. Years later I would meet people who had been there and who still remembered it. Of course, for me it was just unbelievable. Not all of the concerts had the same format, but in Oslo he performed quite a lot of old and new songs, and the music, the scenography, the atmosphere - indescribable. Best concert I've ever seen by a mile.
So with my background, I'd say I know Michael Jackson pretty well (even though it has been over a decade since I listened to his music). And among all the things that are said about the guy, the one thing I don't understand is how some people say "he looks like a woman". (This is more of a throwback to the past, after the last surgeon butchered his face I haven't heard people say it anymore.) It's just hard to imagine women would take a look at him and say "yeap, he's one of us". How exactly does he look like a woman? :confused: Is it the long hair? Is long hair the only thing you need to have to be a woman? I mean he doesn't dress like a woman, does he?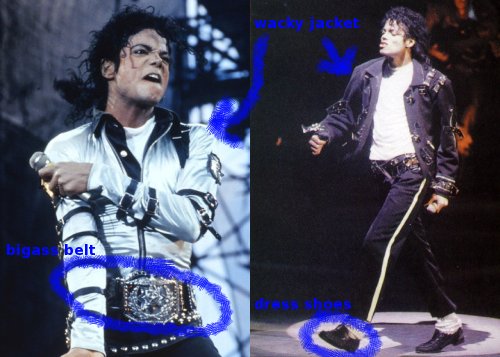 Since when is that women's fashion? Do you see a pink blouse? Red bows in his hair? A tank top? Purple sunglasses? Lipstick? I don't get it. Is it the hair then? Do women think anyone with long hair is a woman? How can that conviction not have backfired at least once in life? I can just see it now, working out at the gym, you spot another woman working on some machine.
"How you doin' girlfriend, haven't seen you around here before.. "
*guy turns around*
"Whoa! Sorry, sir."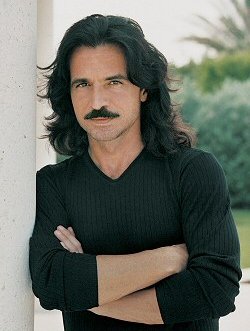 So do all men with long hair look like women? Does Yanni? Well, the moustache may be a tip off, it nothing else. Who else looks like a woman? Oh, I know.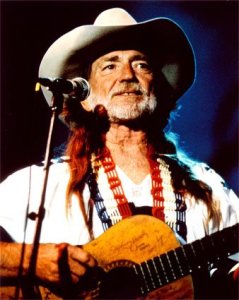 Check out the long hair!! That's a woman if I ever saw one.