Here's the thing. KDE is a wonderful project run by inspired people. It has its problem yes, but all the same it delivers a really outstanding product. It's by far the most exciting happening on the desktop the last couple of years. These people know what they're doing.
You are Kubuntu. You want to bring KDE to Ubuntu users, because it rocks. But here's the problem: you think you know better. You don't. Being a packager does *not* make you an authority on what people want. KDE is fine as it is, stop messing it up.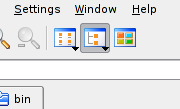 I use konqueror as a file manager, it's great for that. In Gentoo, this is what my toolbar looks like. Notice the selected button, it's called Tree View. I use tree view 99.6% of the time. The button next to it is called Icon View. When you install konqueror in Ubuntu you only get this button. Frankly I don't care about the Tree View button, I can get tree view by using the drop down list on the Icon View button. (Yes it takes longer but I so rarely switch view mode.) Here is what I do care about. When I set the view mode to tree view in my current tab and then open a new tab, in the new tab I get icon view. Congratulations, you have just reproduced one of the most infuriating behaviors of Windows. I have looked around and there is no configuration setting for this in the dialogs. In Gentoo I set tree view and it "just works", tree view all around. Kubuntu just couldn't help themselves, they had to break it.
Another application I use all the time is kate. It's the most practical editor to view files in, although gvim is a bit nicer when you have much editing to do. When I open a file in kate the document list tab always opens. I don't want it to always open, I want it to save on exit. It also does not remember the size of the tab, so the result is this:

One third of the window size is wasted on the document list, even though the filename obviously doesn't need all of it. Meanwhile I get line wrapping in the document pane. Once again, on Gentoo the size is remembered and it "just works", on Ubuntu it's broken.
Here's the thing about user interface experience. It's a very fragile thing. Even if everything else works as it should, one little problem, if it keeps coming up *all the time* can destroy a good experience. And especially knowing that this has worked seamlessly on Gentoo for years is completely infuriating.
EDIT: Fix for the tree view breakage.