It's based on a comic book, which in turn is based on a legend, right? One can image therefore it's targeted at fans of the comic. Well, there isn't much of a story involved, I supposed the attention span of the audience is estimated pretty low. I suspect a Pink Pather audience would already find the uni-dimensionality of this production disconcerting.
It's basically just a long action sequence. And the action is pretty artsy as they come, it's not meant to be realistic or anything like that, so the physical realities are comfortably ignored. They're fighting off all kinds of attacks, swinging their shields so fiercely that every impact with an enemy is like the collision between a semi trailer and a bicycle. They also use this Matrix-like technique where the action slows down and the Persian soldier is moving in slow motion, while the Spartan navigates the space/time continuum so he can swing his sword in real time during a slow motion sequence. No wonder they were so hard to defeat.
Of course, that being the case, the obvious question is why didn't the Persians just drop some rocks on them? Where were their catapults? Would have trampled the Spartans easily without much effort.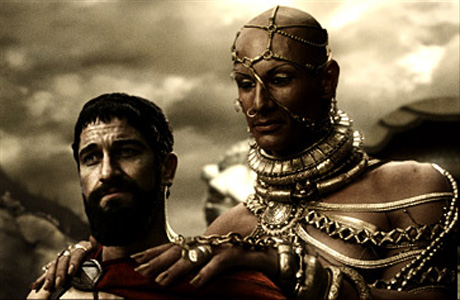 Xerxes called himself a god (there's actually some substance to that claim, there is an xml library in his name, meanwhile Leonidis has no such legacy), but the Spartans were actually more like gods. For starters, they never wore anything over their underwear. I suppose the Greek climate is nice and comfy, but even so you would expect some manner of unkind weather. Then they never ate or slept, and could fight 24/7. And they had no logistics, no supplies of weapons, soldiers, or provisions. Obviously they were no gods, though, no god would be stupid enough to reject the offer to become warlord of all Greece and avoid certain death.
But there are many other curiosities. For instance, why did the Persians make their landing in a place where the Spartans found their ideal strategic position? X marks the spot, right? So the most convenient landing would probably the red arrow. And suppose from that point the only road to Sparta leads through that narrow canyon the Spartans enjoy so much. Well we already saw how the Persians have a gazillion ships, so how about trying some other approaches? I suggest the green arrows, those put you at a proximity to Sparta.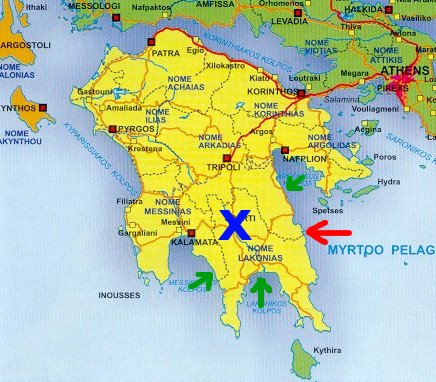 The ending is also very puzzling. Once Leonidis's troops are wiped out, with the promise of Persian massacre onto Sparta, we somehow move one year ahead, Sparta now has found and trained 30,000 troops while escaping extinction. Pink Panther fans are surely shaking their heads.
So yeah, there were some nice artistic images in this movie. A lot of interesting Photoshop-like art, especially in terms of landscapes, skyscapes and lighting effects. Very odd movie, I'd much prefer one about my childhood comic book action hero, the Phantom.