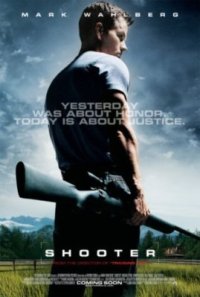 A conspiracy thriller with a redneck in the lead. An unusual angle, but worth a try. The story is he was a sniper in the army, then he got called in for a very special job with the FBI: to plan the assassination of the president cause they believed someone else was going to do it and they wanted him to tell them how it could be done.
Not a great story, but not a bad one either, there is enough to work with no doubt. But that's kind of where the positives end. Mark Wahlberg in the lead.. not bad frankly, but for a role like this you need an actor who can be sensitive, someone who can express the turmoil that he's going through, and Mark just isn't it, the best he can do is look serious. If you think that is revealing, you're onto something. The big problem with this movie, nay disaster, is casting. The casting is horrendous, to the point that not a single actor is right for his/her role.
There is Danny Glover, so admired from the Lethal Weapon epic. For some reason he doesn't even have a voice to speak with, barely producing the words. But he's one of the better ones. The eager detective Nick Memphis who just started at the FBI. Eager yes, but playing a detective like you would a bartender, no feel for it. Swagger's female friend looks like a contestant for Miss America, dolled up like she's going shopping, lives on a farm. Again, no personal drama that anyone would buy. And so it goes, the standard FBI/police war room personnel in a movie like this, all of them misfits, badly cast. Same goes for the bad guys.
I felt the first half of the movie was going somewhere, but the ending is crying out for a rewrite. When you're doing a plot like this you can win the viewer over by building up to something. It's a matter of trust, you tell a story that captures the viewer's interest, and based on that you make a promise to deliver something later on. I'll agree to hold my judgment and go along with you. That's why you have to deliver at the end, you can't just walk out, or the trust is broken. A feeling of betrayal ensues.
A good director could have taken this plot somewhere, maybe even with the ending as it is. But the casting is unbelievably bad.