The Netherlands, a paradise for bikers. Twelve million bikes on seventeen thousand kilometers of dedicated bike paths. And a country so flat that you'll never be pushing your bike uphill because the hill is too steep - there is no hill. There's basically no corner of the country that isn't accessible to a biker, the place sometimes looks like a bike track with a country attached to it.
And yet, something is wrong. Very wrong.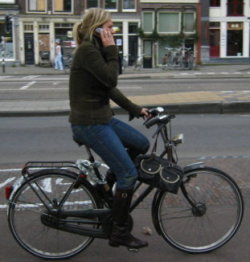 You might think "Hey the Dutch are nuts about biking, I bet they have great bikes over there!". You'd be wrong. The bikes in use in this country are something out of an old Soviet factory. Single speed, pedal brake, black paint (or painted a bright color to conceal rampant corrosion), with a regular chain for locking. Often you can hear them coming, wheels spinning unevenly on the axle because the rims are slightly bent, lights fastened poorly and about to fall off, crank screeching against the panel that conceals the chain. Not surprisingly, bike repair is a thriving business in this country, repair shops are everywhere.
In fact, these old bikes are so dominant that it's difficult to find a bike that isn't one of these historical exhibits. Furthermore, bike theft is so widespread that people don't even want to own anything worth stealing. (A guy once told me he loses roughly one bike per year to theft.) Dutch people love to joke that the lock usually is worth more than the bike is. That's true, I just don't see why that is supposed to be funny. I wouldn't want to live in a house where the lock on the front door is worth more than the house itself.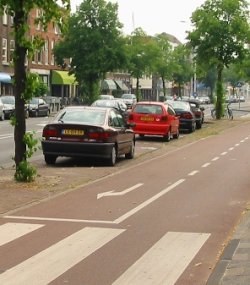 Then there are the bike lanes. Yes, they are dedicated to bikes, and yes they are separate from motorized traffic. What you probably don't expect, however, is just how boring it is to ride on them. They are completely flat, they have their own traffic lights, and even indicators for traffic going in different directions. It's no wonder bikes don't have any gears, there's no way you could build up any speed before you have to stop at the next light. It is the experience of urban biking with the added bureaucracy of driving a car
Not only that, traffic regulations for bikers not only exist, they are enforced. That means you have tax collecting traffic cops just waiting to write you a ticket for any number of trivialities, like riding on the sidewalk (even when it's void of pedestrians), riding a light when there's no traffic, or riding without lights. Lights which, of course, will be stolen unless you obsessively remove them every time you park the bike. (Unless the whole bike gets stolen instead.) It's almost a wonder you don't have to fill in a form every time.
Then there is the terrain. When you're not biking in a town, which is about as much fun as driving a car in heavy traffic, you will find yourself somewhere on the grid of bike lanes that connect towns, out in the great outdoors. What fun! Well, at least until you realize that every slice of the country looks almost exactly the same, and the only thing there is to see anywhere is grasslands with canals crossing them. If you're lucky you might spot a forest, but they are very uncommon. And it's completely flat, so not only is there nothing to see here, you're well aware of the fact that 10km down the road there's also nothing. Scenery wise, this country is as close as you get to a desert.
The Dutch response to all of this? "Biking was never supposed to be fun, it's transport." Well, there you have it, it doesn't get more depressing than that. "Music an art form? We just needed a beat the soldiers could march to."