Yeap. Platini was elected on the back of his proposals to even the scores in European football, and the movement gained enough momentum to win the bid for Euro2012. Pretty amazing. :star:
With a strong Ukraine lobby, and enough support for a Euro in Central/Eastern Europe, they pulled it off. Italy was the big favorite, but lost big time with all the bad press in the last year, their World Cup notwithstanding.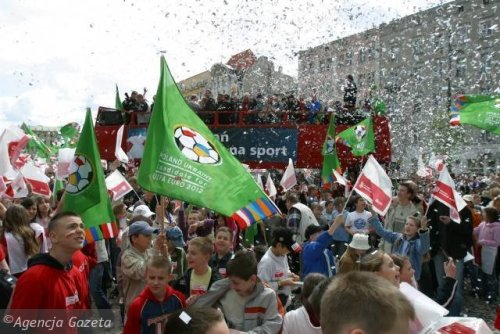 The host cities are:
Chorzów Silesian Stadium (60,000)
Gdańsk Baltic Arena (40,000)
Kraków Wisła Stadium (30,000)
Poznań Municipal Stadium (46,500)
Warsaw National Stadium (70,000)
Wrocław Olimpic Stadium (40,000)
And our neighors:
Dnipropetrovsk Dnipro Stadium (31,003)
Donetsk Shakhtar Stadium (50,000)
Kyiv Olimpiysky (83,450)
Lviv Ukraina Stadium (29,004)
So no Łódź. :lazy: But it should be a terrific boost for tourism, and just about as good enough pretext to fix the broken infrastructure. I hear a Warsaw-Łódź motorway is actually on the way, who would have thought after all these years they would do the most obvious thing in the world.
Obviously, new stadia will be built, and the plans are no less than impressive. Have a look at the prospects.