Tim Parks's chronicles in the footsteps of Hellas Verona with the Brigate Gialloblu are well known to Serie A fans. I'm not one for books about football - I've never been so deeply interested as to study the history and try to find out absolutely everything, to me it's about what's happening in the present. But I thought I would give this one a try, after seeing it recommended by everyone who'd read it. I thought it would be an anthropological book, but it turns out Parks is Veronese: an immigrant who's found himself at home after 20 years in Verona.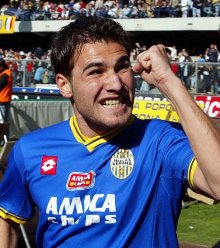 His story is appealing on many levels. What strikes me first is the cozy nostalgia of Serie A in 2001. That Verona team had a lot of players who went on to bigger things. The Verona of Frey, Adailton and Mutu. With players who would make a career at Parma: Gilardino, Bonazzoli, Morfeo, not to mention Prandelli. With Laursen, who would sign for Milan. With Camoranesi, the oriundo, who would lend creativity and dribbling to Lippi's all winning Italy; and keystone of present day Juventus, of course. With Oddo, the most abused of all players, who allegedly had secured a transfer to Lazio in mid season and didn't seem to try very hard. With the Parma veteran Apolloni, his last season before hanging it up. With a young and hopeless Cassetti, present day Roma.
The Bari of Yksel Osmanovski and Daniel Andersson, and the very young Antonio Cassano. Luca Toni playing for Vicenza, long before his rise to fame. It was the start of Parma's sad demise, they had sold Crespo and Veron, brought in Ariel Ortega. They were still impressive, however, with Buffon, Thuram, Cannavaro, and a goal hungry Di Vaio. There were the lacklustre Inter and Milan, the latter would appear in the Uefa Cup the following season. Lazio, champions, had the most expensive squad in the world, way before their financial collapse. Eriksson had done it with Nesta, Nedved, Veron, Almeyda and Sergio Conceicao. Up front they had, no less, Boksic, Salas, Roberto Mancini, Kennet Andersson, Simone Inzaghi and Fabrizio Ravanelli. Roma had brought in Emerson, Batistuta and Nakata, and clinched the title.
And finally it was the Juve of Ancelotti, the man who came so close, but couldn't seem to win anything. Davids ruled the midfield with an iron fist that of Montero in defense. Conte would supply crucial goals when the chips were down, but the sole responsibility for offence was on Zidane's shoulders. It was Trezeguet's first season, after that golden goal at Euro2000. He made short process of Pippo Inzaghi, who was promptly sold. And it was still a time of struggle for Del Piero, who would strike up a golden partnership with Trezeguet the following season, in an improbably league triumph.
And so this is the world in which the story is told. Hellas was fighting for survival just as Chievo was on the brink of promotion to Serie A. They did stay up, but only for a year. Today we find Chievo in Verona's place, and Hellas at the bottom of Serie C1. How time flies. Parks sets out to write a book about Hellas, and the Brigate Gialloblu. Out of all the supporter groups in Italy, they are infamous for being the most racist of them all. By reputation, at least. As it turns out, they are not so much racist, complete with their monkey chants, as just plain antagonistic. But this is Italy, where everything is politicized. And Verona is cast as the racist town.
What matters, above all, in Italy is pretense, theater. It is not so much that rules are bent, they just don't exist as rules, merely as guidelines. And there are always grounds for appeal. In one incident, the police state in no uncertain terms that noone will be let into the stadium without a ticket. But then they are allowed in anyway. One must always be seen to play one's part, that is the crucial thing. On a different occasion, there is heavy rainfall during a match, and by half time the pitch is flooded. The rules state that the ball must be thrown up in the air and made to bounce on the surface, or else the game must be abandoned. But neither the referee nor the teams wish that to happen, so the man in black boldly goes around the pitch trying to get the ball to bounce until he finds a spot where it does. He repeats the test a few more times and now, clearly, a pretense to the rule has been made, the match continues. (Incidentally, that explain's Collina's Perugia in 2000.)
Parks gives us a broad description of Hellas. Both the supporter culture he participates in, and the inner workings of the club. He relays conversations with fans, players, coaches and administrators. What's really interesting is that it would seem everyone in that world, down to the president of the club, is victim of circumstance. The fans are the mercy of the management and the players. The players are at the mercy of the resources the administration has available, the coach, the fans, and public opinion. The coach is at once the most empowered person of all, deciding who will play and where, but then every single decision he makes will be scrutinized. And the president, supposedly all powerful, can do no more than to balance the budget by selling the most valuable players, while facing pressure from fans to spend more and spend wiser.
All in all, a book for a Serie A fan. Humorous in part, revealing to a point, but also padded with a lot of relatively boring storytelling.