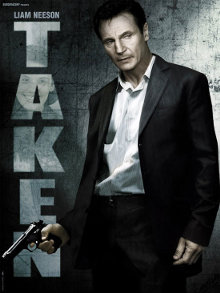 Liam Neeson's character Bryan Mills has been likened to an older Jason Bourne. That is accurate, to a point. Mills is a retired CIA operative with a family. He bears a certain resemblance to Ludlum's Bourne in "Ultimatum" (not the Bourne in the movies, that is), single minded about his daughter and without a second care in the world. But the story is very different from a Ludlum story, it's as if you grabbed all the action and little else. No tangled web, very movie friendly. Or put it this way, the web is there, but Mills unravels it at superb speed, the movie audience doesn't have a moment to wonder about where this is heading. Mills is also more cruel that Bourne, and not as good at interrogation.
The story bears more likeness to "Man on Fire", with Denzel. Both plots to rescue a captured girl by unscrupulous rescuers. Both backed by a high degree of police corruption, making it one man against everyone else.
I am quite impressed with Liam Neeson. I haven't seen him in this kind of role before, but I think he fits it well. Then again, he takes on quite a wide spectrum and fares well wherever he goes. Oskar Schindler will always been in our memories, but he was a submarine officer in "K-19", and then played the Batman villain in "Batman Begins". There are those actors who just seem to fit in whatever the environment, without making a big splash, part of the scenery almost. And you think they've always just been there. Neeson is one of them.