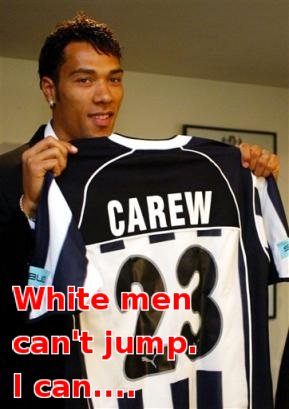 It seems that Real Madrid president Florentino Perez (who was just re-elected with 95% of the votes) was on to something. Now Besiktas have adopted this "buy big" mentality. After spending a season on loan at Roma, unwanted by Valencia, he wasn't exactly a Galatico at €3.5m. Nevertheless, he was received like Zidane, a media frenzy at the airport and a mass audience following his every move. He was just officially presented today and he'll be getting a whopping €1.6m/year.
The question is, of course, what did this reasonably talented player, whose repertoire is fairly limited, do to deserve this royal treatment? Well it seems that Besiktas is set on the new "galactic" policy. They wish to sell no less than 150,000 of these shirts, no doubt to cover his wage expenses and then some. But is it going to work?
This whole situation naturally begs the question: what exactly do they expect from Carew? Is he the new Maradona? I conceed I don't know much about Besiktas but Del Bosque must have spoken very warmly about Carew to the fans, in order to make them receive him this way. And hell, he knows how it's done at Real Madrid so why not... apparently Besiktas think they have themselves a new Air Jordan but so far only the shirt numbers match up. That black and white shirt *does* look pretty good on him though..