The beauty of the camping vacation is the enduring feeling of being on site. Air travel is very insular that way, I feel like I'm in the same place right up until I get off the plane, but when you're on the road it's a whole different feeling and more authentic in a sense. It's tiresome if you have to go far to get there, but once you cross the border into where you're going there is a real sense of expectation that gradually bears out. And you can stop anywhere you want along the way.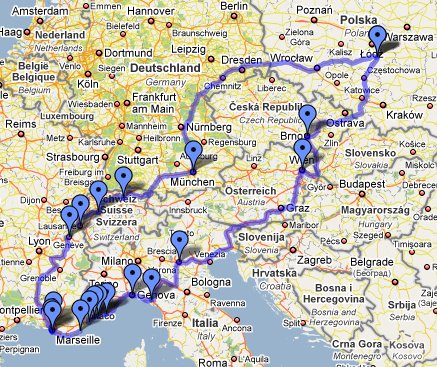 Locations of interest:
Wien (classical concert)
Verona (late night outdoor opera)
Camping right near Lago di Garda - a summer camping hotspot
La Spezia (all day visit to the pictoresque villages in Cinque Terre national park)
Genova (city walk and a visit to Europe's largest aquarium/oceanography museum)
San Remo (walk along the promenade and swimming at the beach)
Monaco (city walk, swimming at the beach)
Nice (walk along the promenade, swimming)
Cannes (walk along the promenade)
Ramatuelle by St. Tropez
Camping at the unbeatable Les Tournels
St. Tropez (city walk)
Marseille (city walk)
Camping in Aix-en-Provence - a nice town in itself
Les Baux-de-Provence (a splendid ancient castle)
Orange (the best preserved Roman theater in Europe)
Geneve (CERN museum, city walk)
Lausanne (city walk)
Bern (Einestein museum)
Zurich (natural earth museum and a robotics museum)
Munich (Deutches museum - world's largest museum of science and technology)
And that's a way to spend three weeks.