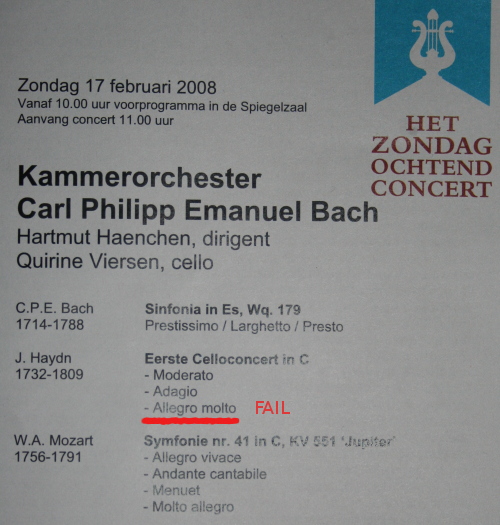 The swanky atmosphere Sunday morning was slightly impaled by a grammar blooper in the program. But never mind. Wikitravel proclaims:
Concertgebouw

Famous for its orchestra and its accoustics (among the top ten in the world), this is the world's most frequently visited concert hall.
I have to say I'm starting to suspect it's the staff authoring this glowing review. Personally I wasn't all that impressed with the acoustics. The large performance hall is a venerable interior with profuse decor, however the technological realization seems to have evaded modern technology. The chamber orchestra was not heard terribly well in the rear half of the hall, which seems a bit amateurish from a sound technology perspective in this day and age.
But for just 15 bucks it wasn't bad value for money, even though I expected more from the venue.