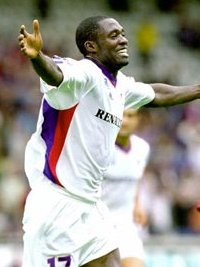 I was watching the Confederations Cup semi final between France and Turkey when I heard the news of Foé's death. Marc Vivien Foé, of Cameroon and Olympique de Lyon, collapsed towards the end of the semi final between Colombia and Cameroon. He was unconscious when examined by doctors on the sidelines and despite attempts at resuscitation in hospital, he was pronounced dead within 45 minutes after full time. The cause of death is said to be heart attack.
A tragic loss for his teammates and the sport as a whole. To me he was one of the best players for Cameroon and I'm sure he'll be missed in the final. It's frigtening to know a 28-year-old man, a top athlete, died almost instantly like that.
The second semi final was played as planned, despite the tragic incident, and there was a minute's silence before kick off. Foé's old teammates from Lyon were visibly shaken, as were several other French internationals who knew him. I wonder what the final will look like, both teams have strong ties to the player, and if it will indeed be played as planned.