Complaining about rain seems to be some kind of ingrained human reflex. But if (almost) everyone is doing it then surely not everyone has a case? Before I moved to the Netherlands I heard people say it rained here all the time. That doesn't agree at all with my observations. But what's a lot? Compared to what?
I know, facts!
The World Weather Information Service has climate information on 1000+ cities around the world. I decided to do a little data mining. All conclusions to follow are based on that data. Just for kicks, I should mention there are very serious methodological problems with this exercise. First of all, they say countries don't necessarily use the same definitions for what's a rainy day or measure precipitation the same way. So you're not really supposed to compare cities. Secondly, when placing cities on a world scale, sampling is everything. And nothing is known about the criteria by which cities are included in the list. We're not gonna let petty details like that stop us, though.
I should also mention that "rain" as used here also includes snow where applicable.
Is it rainy here or what!
So is it rainy here? Let's compare it to the control point: Trondheim. And let's throw in some other data points too, for good measure.
Cities with a reputation for rain: Bergen, London, Seattle, some town on the Spanish north coast (found A Coruna on the list).
Cities known to be dry: Los Angeles, Zaragoza (turns out to be the driest city in Europe)
Other cities: Berlin, Dublin, Milan, Paris, Stockholm
The first number is the total annual precipitation. The second is the number of rainy days.
city            mm/y   days
Bergen          

2250

   

235


A Coruna        

1008

   

171


Seattle          

945

   

122


Milan            

943

    

86


Trondheim        

892

   

216


Amsterdam        

780

   

185


Dublin           

733

   

129


Paris            

650

   

112


London           

611

   

145


Berlin           

571

   

106


Stockholm        

539

   

173


Zaragoza         

317

    

79


Los Angeles      

305

    

27



Bergen's reputation is well justified, it turns out to be the rainiest city in Europe. Rainy London, on the other hand, is a complete myth.
No, not like that, use *all* the facts!
But what do random cities tell us about the big picture? Not much. Let's see how countries place on the overall ranking. Here we see the span they occupy in the list, from the rainiest city on the left to the driest on the right. (Spain refers to mainland Spain.)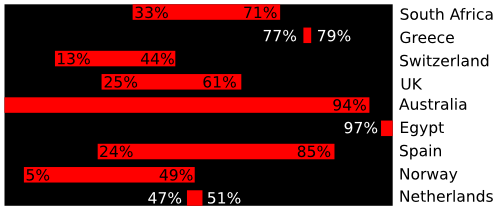 The Netherlands place smack in the middle. So to say it's a rainy country is an obvious exaggeration, it's pretty much average. The very narrow span is probably due to the small and uniform geography. Norway, on the other hand, is definitely rainy, occupying the space in the rainy portion of the list. Bergen is most rainy, Oslo is least. As for London, it's actually the lower end of the UK span, further diffusing its rainy reputation.
If you like staying dry the very best place to be is Luxor in Egypt, where precipitation is a minuscule 3mm annually. At the other end is Quibdo in Colombia, with an incredible 8m of rainfall and 305 days of rain.
But you didn't...
I know, but this isn't supposed to be comprehensive. If you want to do further work on this data you can get the list I generated: