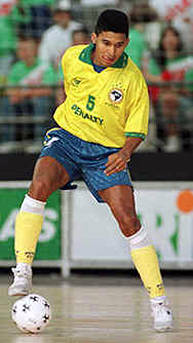 The first time I saw it was a couple of years ago on Eurosport, they were showing the matches from the Euro tournament at the time (Forza Azzurri!) and a friend of mine was really into it so I started watching some too. Still, it seemed too different from the real thing to really be enjoyable.
But now the spirit has been rekindled, I was watching Iraq-Cuba from the ongoing World Cup in Taipei (that's Taiwan, kids) and I realized it's actually quite fun to watch. Unlike soccer, the end to end action is a lot more frequent and there aren't many long stops for free kicks and fouls. The game is still a lot different, but it's more exciting too.
I recall playing indoor, which I never liked. Too much friction off the floor, ball was uncomfortable on the parquet etc. But for watching it's nice..