Yees yes, that fantastic game we played in the early 90s. Remember it? Of course, who could forget. :cap: Getting that prince unscathed through all those tunnels, traps and past all his enemies was great fun.
Ah, the days when Ms-Dos was our operating system of erm... choice and we gave the keyboard a good workout.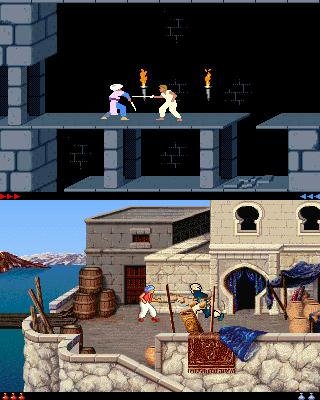 Prince of Persia kept reappearing in new releases, but as far as I'm concerned once you kill the classic 2D game play feel, it's all downhill. The story lines for the later versions were also tediously complicated, nothing like the elegant simplicity of the classic. The original and the sequel, those are the two I played back then.
And now you can re-live the experience yourself. The Unofficial Prince of Persia Website has all the scoop, with plenty of extras. The oldest versions (1 & 2) are considered abandonware (which means no one is there to collect) and are up for download from the site. There's also cheats and walkthroughs if you get stuck (ah, how much easier it is to play these games nowadays when you don't have to figure it out yourself :D ).
Not only that, the walkthroughs for the sequel even have captures on google video, so you don't even have to play it yourself. :D
"But wait a minute", you say, "didn't you say Ms-Dos? How am I going to play these games? I've moved on from Dos by now." Funny you should ask. There is a Dos emulator called dosbox, which gives you a window into Dos, if you will. Inside there you can play any Dos game, and dosbox has a pretty long list of supported games.
Enjoy Prince of Persia! :cool: