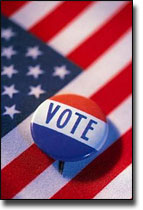 Oh cmon it's election day, you really thought I wouldn't get political? :P
Like it or not, we and most other nations (if not all) in the world today are affected by the outcome of these theatrics currently in progress. It's fair to say in the long run it affects us just as much (or probably more) than whatever may be the outcome of the political process here at home. Thus it shouldn't be hard to understand that the world gets involved when the only world superpower is electing its leader. And the world has voted overwhelmingly for not-Bush. In the grand scheme of US politics, where no person without a fortune and the backing of most the country's multinational corporations is a worthy candidate, it might seem trivial to get worked up about who might win. Either of the sides is still going to do favors for their corporate patrons and noone cares about the people anyway.
But seeing how much damage the Bush camp has managed to inflict over the past four years, considering that administration shows no restraint in pursuing their blatant self-interests at the expense of long standing, well established diplomatic relations (for one thing), the choice seems very clear. The puppet must not win, otherwise the puppet masters currently in power will never hesitate to extend this dreadful streak of ruthless foreign policy and domestic misery. Bush is no orator and in his poor rhetoric, I noticed that he doesn't speak much about domestic issues at all. It's all about "we have to defend ourselves", "this is a great country", "hard working people" and for some reason people don't seem to mind hearing that. Yes, let uncle tell us a story. In Orwellish manner, the "threat to national security" is so great that he gets away with harping on that same thing and that's enough to please the masses. "America was attacked". Meanwhile fresh reports suggest the number of civilian casualties in Iraq has surpassed 100,000 but that never makes the big headlines.
I might as well say I don't know anything about John Kerry. But his people couldn't possibly be any worse than this.