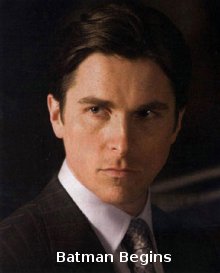 It's hard to keep track of these guys, they keep moving around a lot. Let's see, Superman has just Returned to Metropolis, Batman has Begun in Gotham and last we heard from Spiderman he's in college somewhere in New York.
Batman Begins is by far the best of those movies. Christian Bale is awesome because... he has no charm. So he doesn't have to try to not be himself when he's serious, he's perfect for these intense characters. Although the title is stupid... "begins".... begins what? Sounds like it could be called Batman's First Day In School. His gadgets are great though, the suit, the wheels, everything. One thing is very disturbing, however. There is no Robin. And they completely forgot about the Batman theme. The soundtrack is by Hans Zimmer and James Newton Howard, and as such, excellent, but nowhere does the classic Batman theme come into the picture.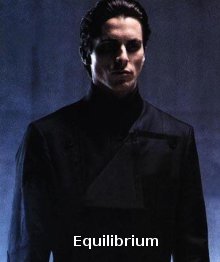 For those who didn't know, Batman trains as a ninja :/ before he finds his calling at the bottom of a well he fell into when he was a kid. He's the son of super wealthy industrialist parents, who were very charitable and built a free monorail for the city. His childhood friend Rachel becomes a D.A. at the tender age of ~25 and prosecutes the baddest baddies in town, but she only loves the pre-Batman Bruce Wayne, not the superhero he's become. Ooh, deep. :D
Superman Returns is sort of a mockery of everything Superman stands for. I mean Brandon Routh has to be the least charismatic superhero ever. Then there's Lois Lane, who's supposed to be a dazzling woman, but she's just a totally ordinary person. Lex Luthor is played by Kevin Spacey, so you'd expect him to be the best character, but it's a very pale performance by Spacey. Perry White, the charismatic editor of Daily Planet, the great chief, the one who inspires and leads by example, the visionary, is just an old man. Jimmy is supposed to be this street smart kid, but they made him a total geek. Do the people who made this movie even like Superman?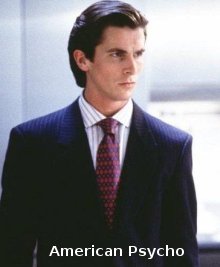 Spiderman, the timid high school geek no one even knows exists. He's in love with this chick who doesn't know about it, and he's too shy to tell her. One day he discovers he has special powers.. Please stop me when it gets so cliché you can't take it anymore. You'll have to excuse me for not knowing what happened in the sequel, it's a miracle I didn't walk out of the first one. What's there to say here? Well, it's really boring. The villain is a big yawn and the story as a whole is too.
Which superhero did you grow up with? I wasn't really that big on them, but I guess Batman was on tv the most, so I'm kinda glad they didn't totally botch that movie. :D In terms of comic books, I used to read The Phantom though.