As with a lot of things, the theory of music intervals is complicated enough to require a little bit of maturity. The division of the octave into different tunings has evolved with the times, and while the concept is simple, there are many nuances.
An easy way to illustrate is by observing the piano keyboard. The most fundamental scale is C-D-E-F-G-A-B-C, and that's an octave, of course. Each of the scales (or collections) built on these successive pitches has its own fancy Greek name, so if you want to understand what the heck people are saying, you better know these as well.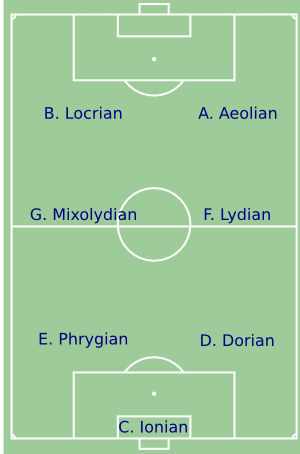 The problem is a typical memorization exercise, tie 7 different pitches to 7 Greek names. There is no obvious way to do this, match one set of numbers with another set of names. Except when you're a football supporter. We can memorize lineups and shirt numbers like nobody's business, linking them to faces and positions on the pitch. So why not leverage this ability.
There are 7 players, so we're going to play a 2-2-2 formation. The numbering is standard, ascending from right to left. C is our fundamental pitch, so that's where we start counting.
You're going to look at this formation, and the next time someone mentions Lydian mode you're going to think "Lydian... right midfield, shirt number 4, so that's... C, D, E, F. The mode is then F-G-A-B-C-D-E-F".
If only we could get this team into Football Manager, everyone would know this.